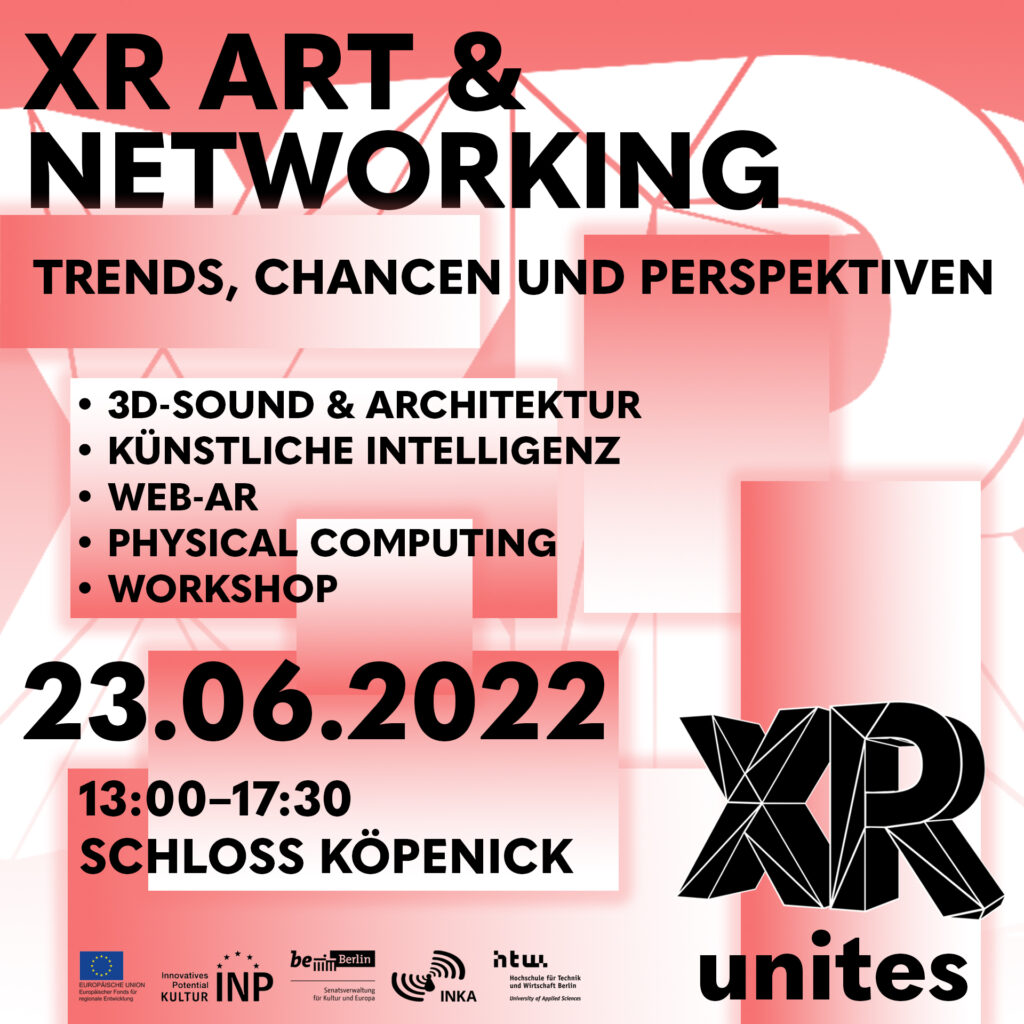 Hurray, the third XR Art & Networking Event will take place for the first time in presence! On June 23, 2022 from 1-5:30 p.m. we cordially invite the independent cultural scene and creative industry of Berlin to the AURORA Hall and the park of Schloss Köpenick.
One focus of the event will be on combining exciting fields such as AI, 3D sound, and physical computing with XR technologies. There will also be an update on WebAR.
In the context of »Physical Computing & Embodiment in VR«, we plan a preview of »XBPMMM«, the result of the second XR_Unites open call in collaboration with Janne Kummer, Anton Krause, and Steph Holl-Trieu.
The event will further draw attention to creative business models with XR and related funding opportunities at HTW Berlin – a one-hour XR workshop is planned for a casual exchange on business ideas. There will also be five stands on special themes where visitors can brainstorm about XR culture, future projects and networking opportunities over coffee in the Schlosspark.
Last but not least, the sister project of XR_Unites, AURORA School for ARtists, invites to an alumni meeting.
The event will be held in German (Powerpoint presentations & conversations also in English). REGISTRATION is requested by 17.06.2022!
Program
1.00 p.m.
Arrival, registration and coffee
1.30 p.m.
Welcoming
Jürgen Sieck / Maja Stark
Impulse 1: Spatial Sound and architecture
Anne Eiselein / Sophie Schauer
Impulse 2: Artificial intelligence, extended reality and culture
André Selmangić / Leonid Barsht
Impulse 3: Update on WebAR
Selina Wernike / Catherine Heyart
Impulse 4: Physical computing & Embodiment in VR
Anton Krause / Janne Kummer
3.00 p.m.
XR Art & Networking – Pitches to theme stands:


Berlin funding opportunities in art and culture
Kathleen Reichel-Stradins / Daniel Deppe, Senate Department for Culture and Europe under program INP-III
Digital art
Digital artists of the Medienkunstverein (mkv)
InnoTechHub of the HTW Berlin
Wenke Förster, HTW Berlin
Physical computing & Embodiment in VR
XR_Unites / Anton Krause / Janne Kummer
School for ARtists 4 Future
AURORA / Alumni
3D sound in VR/AR
APOLLO / Konzerthaus Berlin

3.15 p.m.
Coffee in the castle park
3.30 p.m.
XR Art & Networking at the theme stands in Köpenick castle park



4.30–5.30 p.m.:
XR as an opportunity for creative business models (workshop)
5.30 p.m.
Resume and farewell